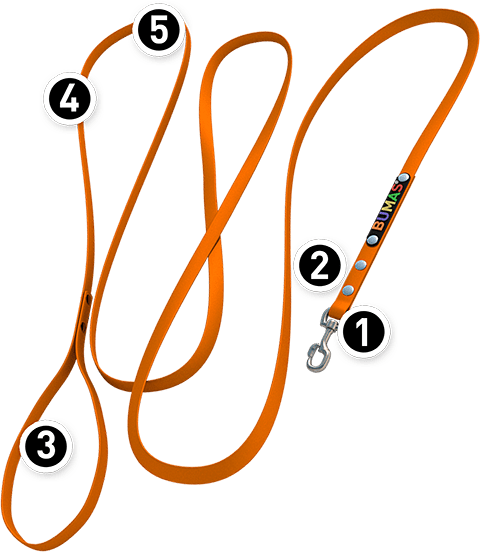 Leashes for dogs fashionable, sporty, custom made - perfect for every walk with your dog
The handmade BUMAS leashes are as soft as embossed leather. When walking your dog, the leash has a good grip and is lightweight and easy to hold. It doesn't rub or chafe and makes walks a real pleasure.
Buy now
Tear-resistant and riveted 3 times
Colourful and individually designable
Three widths for small and large dogs
Water and moisture repellent
Hygienic and easy to clean
Which leash is the best?
BUMAS leashes are available in different lengths, widths and colours. They are handmade to measure. Perfectly fitting for your dog.
BUMAS leash "Control"
This type of leash is 0.5m "short" and is used in traffic or training.
The BUMAS short leash "Control" offers a high degree of control and safety, but limited freedom when walking. Available in different widths and with hand loop.
Buy now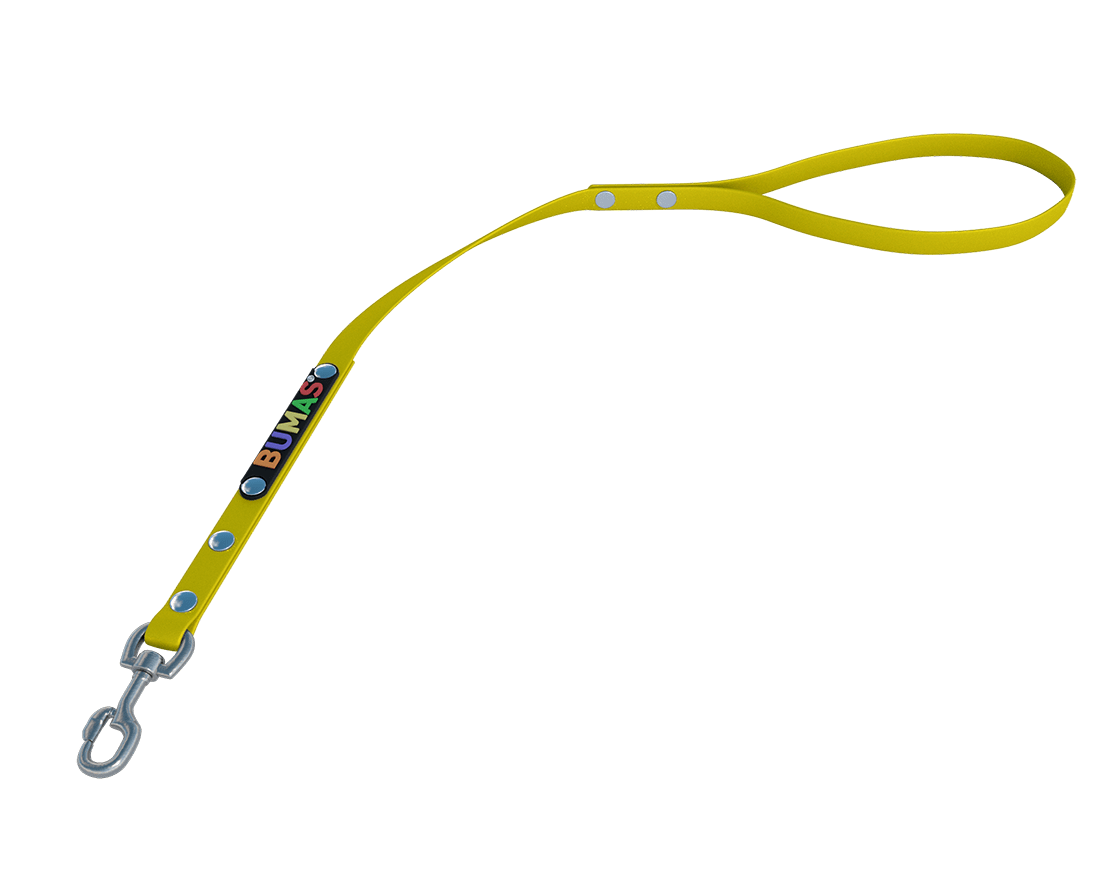 BUMAS leash "Easy Going"
This type of leash is part of the basic dog gear. As it can be individually selected in length and width. It is suitable for every dog.
With its practical hand loop, the BUMAS leash "Easy Going" provides security in many situations.
Buy now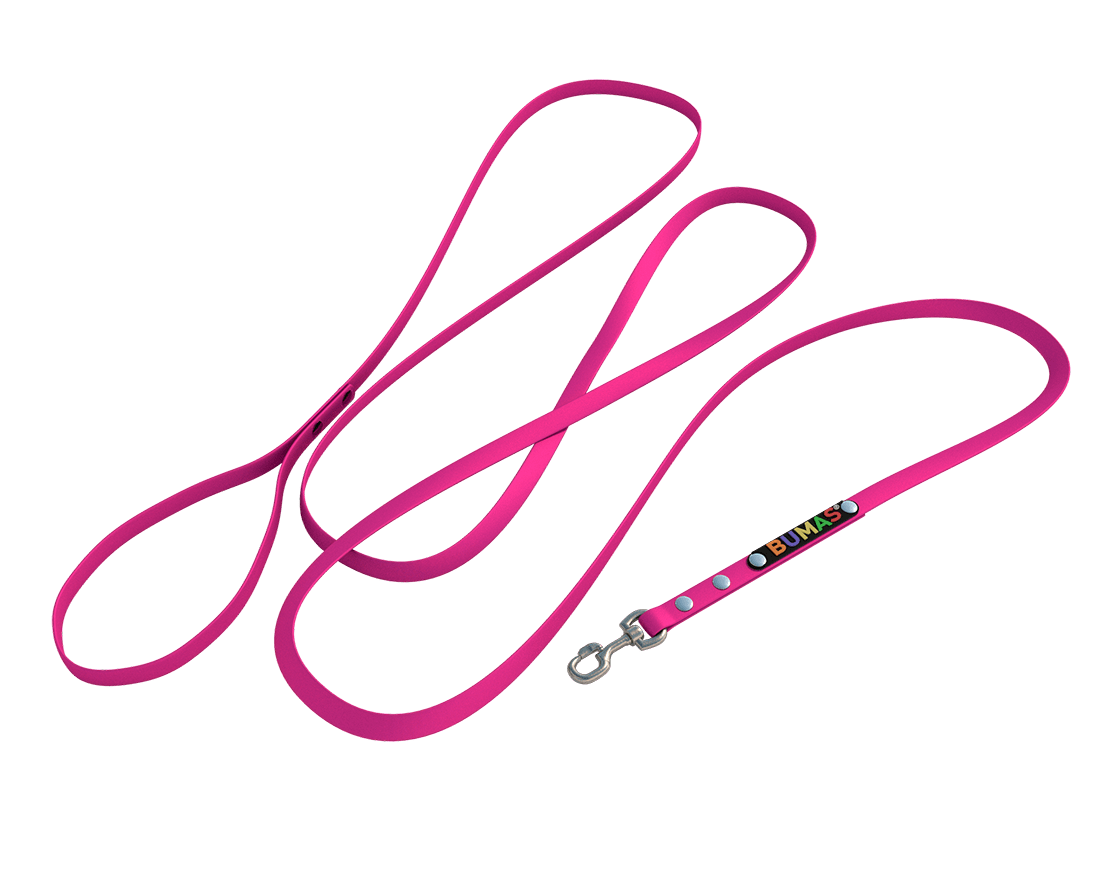 BUMAS tracking leash "Sport"
With this leash you are well equipped for terrain and training.
Depending on your taste, you can choose between a hand loop, a loose end or a second carabiner.
The BUMAS leash "Sport" gives your dog enough space to romp around and sniff around.
Buy now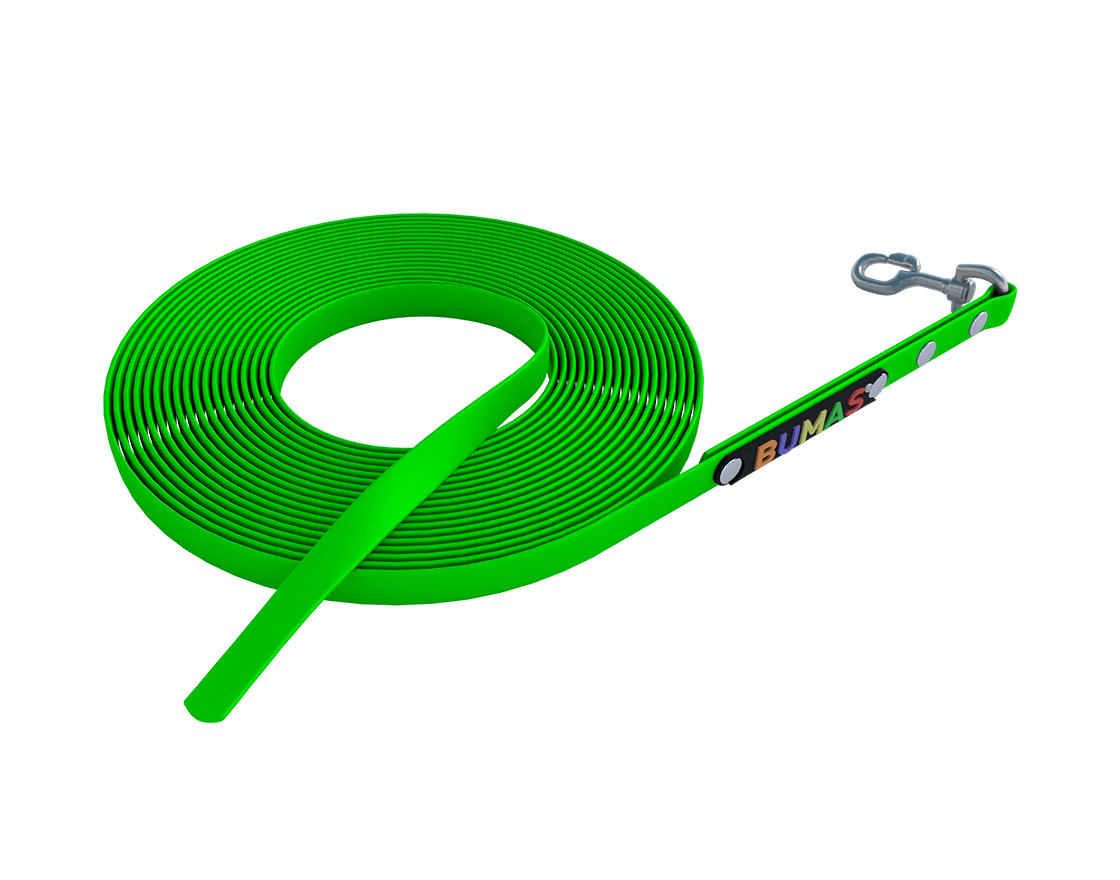 BUMAS adjustable leash "Convenience"
Short or long – you are prepared for everything. The BUMAS leash "Convenience" is made with two carabiners and thus enables hands-free leading.
One carabiner is attached to the dog collar or chest harness. The second carabiner is attached to a waist belt or similar on the dog owner.
Buy now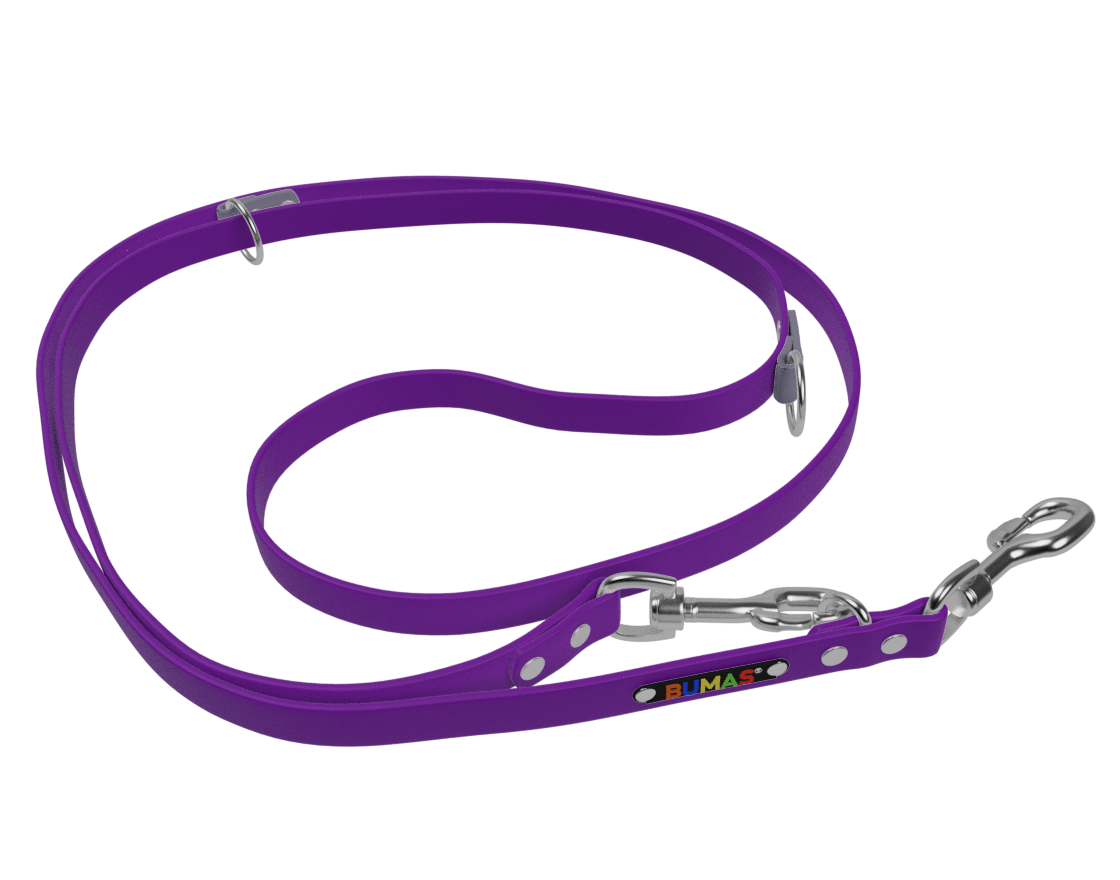 BUMAS adjustable leash "Elements"
Multifunctional and special, you can combine up to four colours on this leash. An absolute must-have piece for all fashion-conscious dog owners.
This leash is made with two carabiners. You can lead your dog hands-free or form a secure loop yourself and adjust the length. The BUMAS leash "Elements" is fashionable and practical at the same time.
Buy now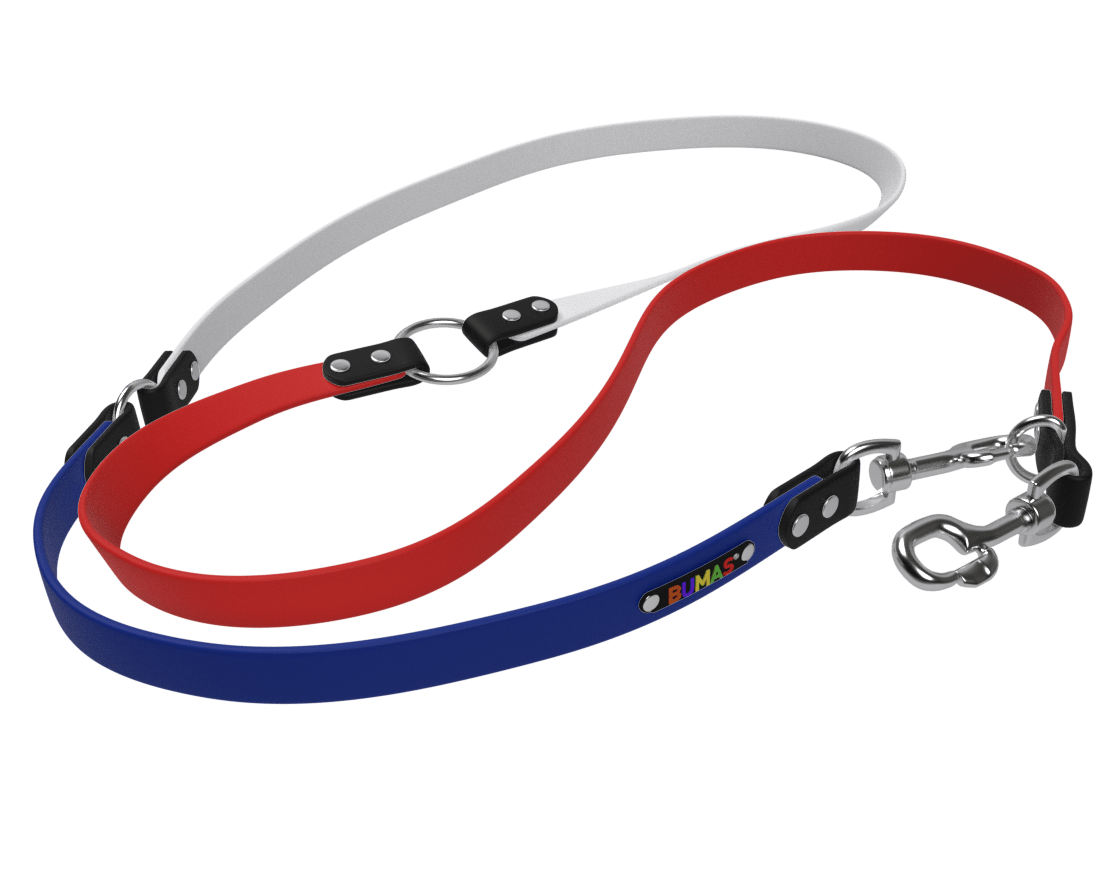 Bumas "Trinity"
BUMAS muzzle, collar "Elements" und adjustable leash "Elements"
We know how difficult it is to find the perfect gear for your dog. Of course it should be functional, but it also should look good!
That's exactly why you can perfectly match the colours of our products. This way, your pup can also shine when it comes to style.
Design now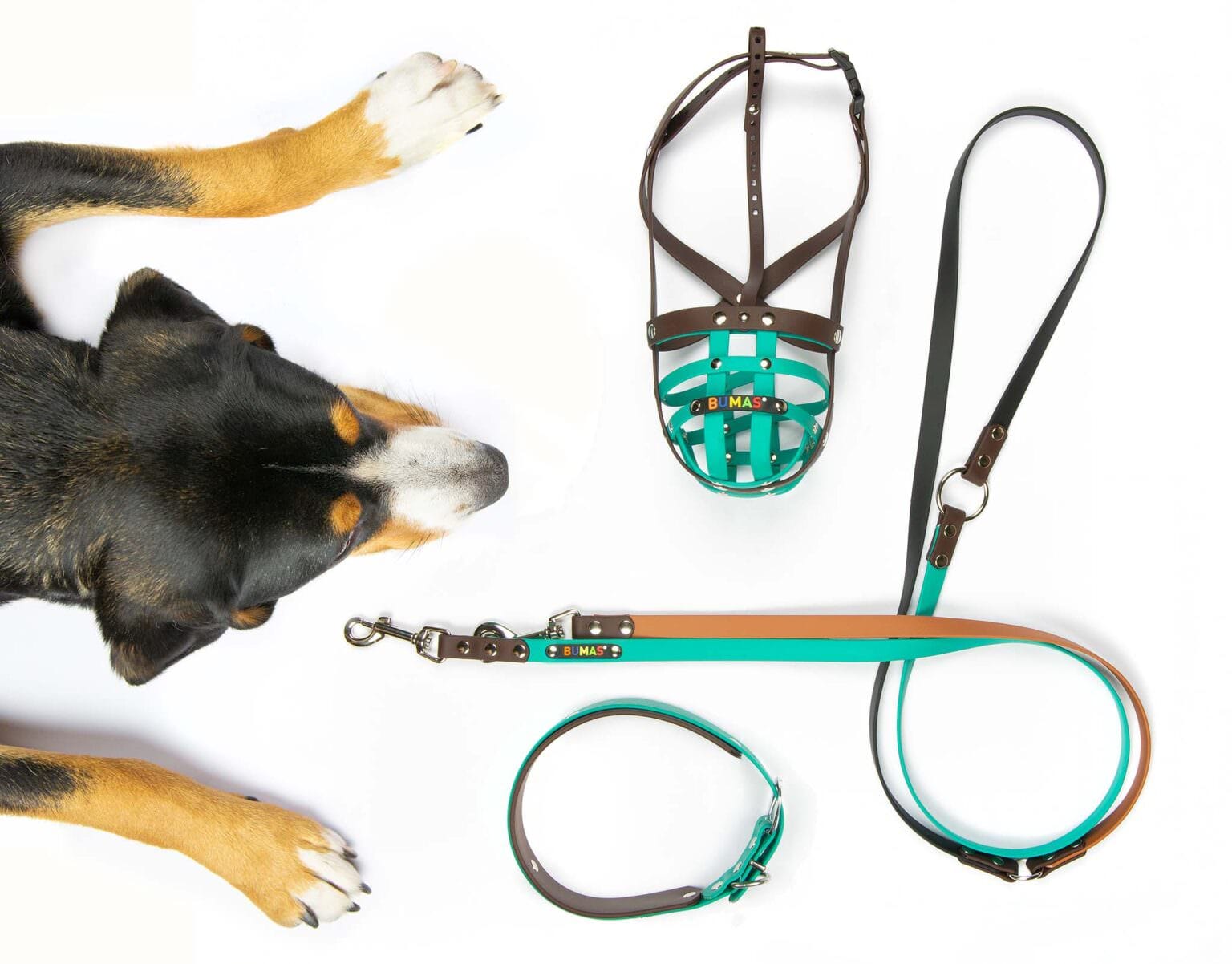 Design your BUMAS leash for your dog
In our shop you can choose your favorite combination from a wide range of colors.
Design your leash now
BUMAS "Reflective"
Safety for dog and owner is our top priority. That's why we also offer our leashes and collars in the reflective material BioThane® "Reflective". With BUMAS "Reflective" you will ensure optimal visibility. Available in 19mm wide straps and currently in the colours: black, teal, neon yellow and neon pink.
BUMAS gift vouchers
As a gift to make a responsible dog owner happy!